Stats
Size (m2)
7.8
Luff (cm)
469
Boom (cm)
206
Battens
7
Ideal Mast
Gaastra 460 SDM C100
Extension Req (cm)
10
Price
£577
Tweet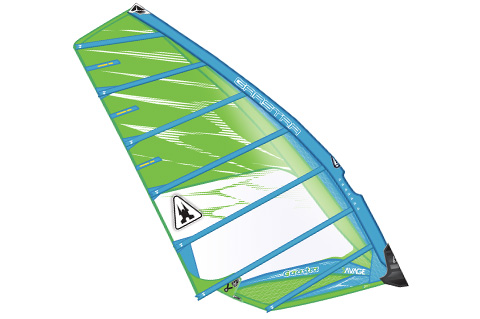 GAASTRA SAVAGE 7.8M 2014 TEST REVIEW
OVERVIEW
Outline  Short luff, squat racy outline. (Shortest luff and, due to large cut-out, shortest boom length model on the trip too.)
Build Quality  Mostly coloured and graphic printed mono-film with x-ply reinforcements and all the usual well thought-out Gaastra features.
Rigging and Tuning  Rigged cleanly pretty much exactly to specifications and settings printed on sail and bag. We found it better in nearly all conditions with near the maximum amount of downhaul and a slightly positive outhaul setting, even at the low-end.
BRAND POSITIONING
'The Savage is a no cam slalom sail, which has all the features of a race sail, but in a much more accessible package, with no cambers. If you compare it to a classic free ride sail, the SAVAGE comes with 7 tube rod battens. A dropped tack that allows it to be rigged further down for a better gap closure, making it a more high end performance oriented sail. It is perfectly suited to freerace and slalom boards. The narrow sleeve and no cams make it very user friendly in the jibes.' (Sic.)
PERFORMANCE
The Savage is definitely one of the more 'serious' sails in this group with clear DNA from the Gaastra racing program evident from the off.  The wind range is good, but it's at the lighter end of the scale that the power is most present and useful. Not in a brutal, arm-stretching way, but the top speed in light winds and super-impressive acceleration are remarkable – and clearly the best in this selection – even for heavyweights in just 10-12 knots of wind. Clicking through the gears it's super locked-in and really stable, with the race-cut foot closing the slot quickly to aid the drive.  In windier weather we were also impressed by how able we were to hold onto it in wind gusting viciously in excess of 30 knots, the slalomy feel pinning down livelier boards with ease. That said, in terms of board suitability we think the Savage best matches the more planted, wider hulls, with the drive going into powering the board rather than as down force simply to control a narrower outline. OK, when the wind range is stretched it's not quite the fastest, but it is very easy to pilot, and we think budding racers should give this one strong consideration for racing due to the acceleration on offer in lighter or dirtier air. Around the corners this 7.8 is settled and goes neutral easily but, with the deep cut-out and extra width, is understandably not the most manoevrable one in the mix.
THE VERDICT
A refined, smooth power delivery and exceptional low-end acceleration make the Savage a strong contender for recreational racing use. The Gaastra slalom pedigree is evident in the behaviour across the wind range, with superb control in gusts. Ideal partner for wider, compact boards.
NOW READ THE OTHER REPORTS
ATTITUDE RPM 7.8
EZZY CHEETAH 7.5
GOYA NEXUS 7.5
NEILPRYDE HELLCAT 7.7
NORTH E_TYPE 7.8
POINT-7 AC-X 4G 7.5
RRD FIRE 7.6
SIMMER VMAX 7.9
SEVERNE NCX 7.5
TUSHINGHAM T4 7.5