Stats
Size (m2)
7.5
Luff (cm)
482
Boom (cm)
200
Battens
7
Ideal Mast
460 SDM5
Extension Req (cm)
22
Price
£TBC
Tweet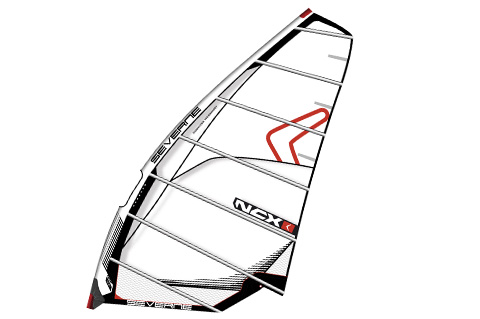 SEVERNE NCX 7.5M 2014 TEST REVIEW
OVERVIEW
Outline  Deep-cut foot, higher aspect head and low-aspect foot section with deep dropped clew. Full profile top to bottom.
Build Quality  Things we noticed include: Hidden seams to prevent abrasion in head and foot, stretch control luff panel, spiderfibre reinforcement and stretch control in leech, double clew cringle heights, 4-pulley block. Rope stash, moulded tack fairing.
Rigging and Tuning  We didn't find the NCX to be too sensitive to rigging. We cranked on enough to 'activate' the leech, used a couple of cm of positive outhaul and hardly found the need to deviate much from there in nearly all conditions. Any tweaks made pretty marginal difference to be honest. This 7.5 sets pretty full anyway, so, with already impeccable behaviour, it's hard to see flattening the profile would make it any better?
BRAND POSITIONING
'Engineered for performance, the 0I4 NCX redefines no-cam freerace sails. Built on the SEVERNE race sail platform with reduced aspect ratios, a more connected leech and higher skin tension, the NCX delivers accessible race sail performance without cams. The design emphasis is on an extremely balanced sail, with built in shock-absorbing properties, allowing the rider to maintain a comfortable stance through gusts and chop, and provide a huge wind range.'(Sic.)
PERFORMANCE
All but the heaviest testers enjoyed the extreme low-end from the NCX (8-10 knots) and the acceleration through the mid-range and out of any manoeuvres is pretty impressive too.  A lot of sails in this group stretched previous boundaries in what you'd expect from a 7.5 rotational sail and the NCX was no exception. OK, it wasn't quite the fastest when pushed in over 30 knots, but it was certainly the most comfortable of the bunch, but most importantly – and unlike some in this selection – it didn't need a monster piloting it to access that high-end performance. Even for the heavyweights, the NCX was the most comfortable and easiest to control at the top-end, definitely the most stable and by far the best behaved when well past point where reasonable manners are no longer expected. We felt this Severne preferred the more settled/planted boards, but that said, it also pushed all types of hull down well to deliver that control, especially in more messed-up water. We all noticed that the NCX had us upright and in control without the need to sit down or muscle out big gusts like some.  All the power went through the mastfoot and no board that we paired it with was ever over lively. Last year we were aware of quite bit of leech flutter, but this incarnation felt quite tight leeched if anything, seeming to absorb excess power rather than spill it, yet not quite in a soft or spongy way. (It's also worth noting we used a Gaastra mast throughout.) Around the bends the light weight make it a pleasure to manoeuvre and position with a good neutral feel and easy side-to-side transition.
THE VERDICT
Effortless to sail, the Severne NCX is a super-settled, easy-to-sail product that's impressively built – yet light in the hands.  Incredible wind range make it the best option for light and middle weights wanting to compete with giants and access extreme, top-end speed.
NOW READ THE OTHER REPORTS
ATTITUDE RPM 7.8
EZZY CHEETAH 7.5
GAASTRA SAVAGE 7.8
GOYA NEXUS 7.5
NEILPRYDE HELLCAT 7.7
NORTH E_TYPE 7.8
POINT-7 AC-X 4G 7.5
RRD FIRE 7.6
SIMMER VMAX 7.9
TUSHINGHAM T4 7.5