Stats
Size (m2)
7.9
Luff (cm)
480
Boom (cm)
226
Battens
6
Ideal Mast
SC10 460 SDM
Extension Req (cm)
20
Price
£529
Tweet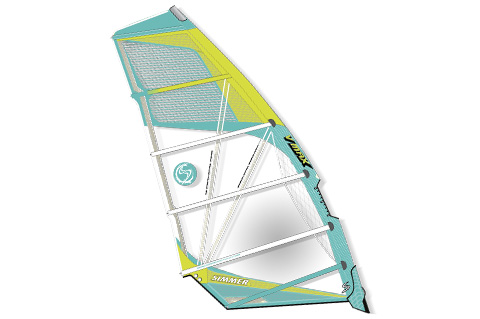 SIMMER V-MAX 7.9M 2014 TEST REVIEW
OVERVIEW
The V-Max sits between the Enduro 'freemove' and 2XC twin-cam in the Simmer range. They also have the SCS 3-cam freerace and, of course the PWA registered full-on racing SCR.
Outline  One of the longest mast and boom lengths on test the V-Max has low to moderate aspect ratio, a small dropped clew, twin outhaul cringle positions, a step high in the leech, a deep-cut foot and all on a 6-batten frame – one of only two 6-battens in the group.
Build Quality  Solid Simmer build with Kevlar reinforced stretch control seams, x-ply in the luff and foot, 'q-ply' in the head and film in the main body.
Rigging and Tuning  Generally the V-max likes to remain a little bit taught. Keep it nice and full with just a couple of cm. of positive outhaul but don't overdo the leech. You can tune with both down and outhaul to match the conditions, but we found it largely better left full as the profile pins boards down incredibly well anyway when the going gets more hectic.
BRAND POSITIONING
'V-Max is a powerful 6 batten freeride sail which is easy to get going, even with a smaller sail in less wind. With a light-weight construction and a full sail profile, the V-Max appeals to the freeride sailor who wants to maximise the enjoyment of planing without needing to work for it. V-Max offers quick and simple rigging, great low-end power and easy on-water handling. V-Max is the best choice for the sailor who wants a light-weight, cam free, manouever-oriented freeride sail.' (Sic.)
PERFORMANCE
Although it initially looks a bit 'boomy' the V-Max generally behaves like a much higher aspect sail. But the benefits of lower end grunt are all present though – even for the big boys – and the acceleration notably smooth and always to-hand. Through the wind range the speed is good and the smooth ride, power delivery and control all help to be competitive in a head-to-head, especially in rougher water. The feel is also nice and light thanks to the 6-batten chassis and good mix of durable and lightweight materials. But it's at the corners and – more specifically – coming out of them that make the V-Max a mouth-watering proposition. All tester weights found this 7.9 to have amazing exits from the turns – where it definitely didn't feel 'boomy' at all, flicking around beautifully, all nice and neutral, letting one easily able to stay well composed, until sheeting-in where then the power comes on good and strong. All said and done we found this a nice 'invisible' product that's pretty much 'plug 'n play' and easy to setup and use.
THE VERDICT
A super-manoevrable and light-feeling sail that delivers good control and an easy ride. But the ace up the V-Max's sleeve is the demon acceleration, specifically on exiting turns. A dark horse to watch out for in a drag-race…
NOW READ THE OTHER REPORTS
ATTITUDE RPM 7.8
EZZY CHEETAH 7.5
GAASTRA SAVAGE 7.8
GOYA NEXUS 7.5
NEILPRYDE HELLCAT 7.7
NORTH E_TYPE 7.8
POINT-7 AC-X 4G 7.5
RRD FIRE 7.6
SEVERNE NCX 7.5
TUSHINGHAM T4 7.5