Stats
Size (m2)
7.5
Luff (cm)
484
Boom (cm)
212
Battens
7
Ideal Mast
Goya 460 RDM C90
Extension Req (cm)
25
Price
£619
Tweet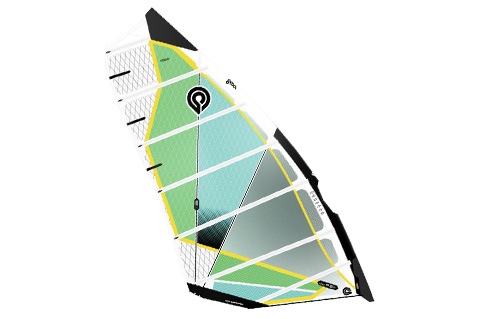 GOYA NEXUS 7.5M 2014 TEST REVIEW
OVERVIEW
Goya keep their range nice and simple and the Nexus, which we probably get to test in around three sizes per season, sits alongside dedicated wave and learning sails while there are no cam sails or racing program in the collection to filter down through their offerings. The 7.5 is one of the three largest Nexus' sitting near the top of a largely 6-batten, 9-model series. (RDM compatible in all sizes and fits SDM in 5.4 upwards too.)
Outline Looks tall and narrow with low clew but actually not quite as high aspect as you think. 'Reduced Head' cutaway leech, medium to low luff curve.
Build Quality Stunning appearance and combination of high-end scrim and carbon stretch-control materials and attention to detail. Defined Goya look that would be hard to confuse with anything else. In our opinion this is a beautifully finished product.
Rigging and Tuning Only suitable for an RDM mast, which was the hardest to sleeve and de-sleeve. (This should become easier with use after 'bedding in'.) Quite a bit of effort reqired to downhaul to specified tension due to the super-snug-fitting sleeve. This should also ease with use. Longest and highest boom cut-out of all on test, probably higher than needed even with two 6'4" riders. At first this sail looks really flat, but this is something of an illusion with its fine entry foil hiding the full, draft-back shape.
BRAND POSITIONING
"The new Nexus is significantly lighter, stronger and faster. You can expect magnetic low end power, easy handling with a massive high wind range and unlimited speed potential in any flatwater to bump and jump condition. The Nexus is all about simple speed. This sail has no cambers, making rigging a dream. The scrim body panels provide a quiet, supple ride." (Sic.)
PERFORMANCE
The light feel and smooth power delivery in the low to mid-range disguise the considerable grunt and acceleration that the Nexus 7.5 provides and it's only when you go head-to-head that this is unmistakably apparent.  Mostly the high-range is well behaved too, however, at the extreme top end there are more stable rivals as, in the highest of gusts encountered (30-knots plus), the head of the sail did start to invert and unsettle the rider somewhat. Although, to be fair, this only occurs when most sailors would have already have chosen to be on something smaller. In terms of carving and manoeuvres, this Nexus delivered a really nice feel that pulls you into gybes and turns and drives the rail down helping to keep the momentum going. In general the speed is good and the Nexus fits firmly into the 'less racy feeling, but-fast-because-it's-comfortable' side of the scale within this test group.
THE VERDICT
A light-feeling and smooth power delivery give positive low-end drive and easy handling around the bends. Superb construction and a high boom cutout make it a strong option for heavy-wearing locations and taller riders.
NOW READ THE OTHER REPORTS
ATTITUDE RPM 7.8
EZZY CHEETAH 7.5
GAASTRA SAVAGE 7.8
NEILPRYDE HELLCAT 7.7
NORTH E_TYPE 7.8
POINT-7 AC-X 4G 7.5
RRD FIRE 7.6
SIMMER VMAX 7.9
SEVERNE NCX 7.5
TUSHINGHAM T4 7.5