Stats
Size (m2)
7.7
Luff (cm)
490
Boom (cm)
212
Battens
7
Ideal Mast
Neil Pryde FX100 490 SDM
Price
£649
Tweet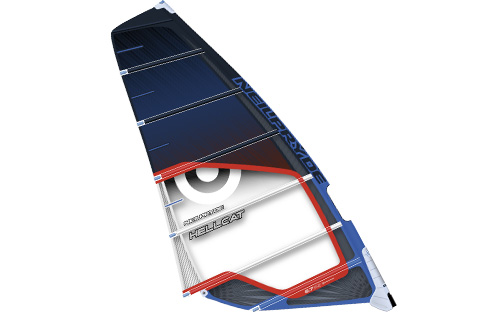 NEILPRYDE HELLCAT 7.7M 2014 TEST REVIEW
OVERVIEW
World Cup racing winners NeilPryde love to pass on their thoroughbred techniques into their recreational lines and the no-cam Hellcat Freerace sail sits between the H2 twin-cam freerace and Hornet twin-cam freeride lines in their flat-water program. (Look out for tests on those in upcoming issues.)
Outline Quite 'bottom heavy' with a long luff and fairly lengthy boom too – plus a healthy dropped clew too. The shape's full and focused low down. Medium-to-low cut foot.
Build Quality Polished as you'd expect from Pryde with awesome Forceline radial yarn panels distributing load, double stitched seams and tubular battens.
Rigging and Tuning Although easy to sleeve, some effort is required to downhaul, so a bar or ezy-rig is almost mandatory. The rotation is hard but slick. The only sail in the group using a 490 mast as opposed to 460. (Fixed head.)
BRAND POSITIONING
'Hellcat is a fast, powerful freerace sail borne from the NeilPryde Racing program. It's effortless and smooth, slippery and rapid when powered up on a reach. Hellcat's shaping and twist characteristics are derived from the EVO and H2 race sails, ensuring pace and pedigree of this no-cam, seven batten layout. The 2014 Hellcat features revolutionary Forceline Frame construction for dynamic load and shape control and even more durability'. (Sic.)
PERFORMANCE
The Hellcat's racing lineage is immediately evident from the second you sheet in. Well, and from the physical rigging session just beforehand too. But it's worth it. This sail is all about wind range – and top-end speed. At the low-end we found it to be the undisputed earliest planer, especially for heavyweights, although not quite the fastest in super-light air, despite impressive acceleration. The mid-range speed is competitive, but it's at the other end the cutting-edge pace comes to the fore, again, mainly for the big boys able to hang on for longer. Here, in gusts of 'dense' wind, well over 30 knots, the Hellcat reached another gear, despite this being well past its quoted remit.  OK there were sails easier to handle when pushed, but the outright capacity to burn it up is worth noting as it simply couldn't be argued against. In regular breeze, with the pull all low in the rig, the Hellcat's not an overly beastly provider of power. Although the much lighter riders said it was pretty grunty, but for most testers it was simply smooth and composed and the nice skin tension provides stress-free handling, all in a super-light package. In the gybes the Hellcat stays unruffled, always noticeably easy to lay down, flick around and position. Definitely more 'race' than 'free' the Hellcat should be at the top of your list if you're into stretching wind range, but want your best outright speeds to come from when you're muscling-it at the edges of the window.
THE VERDICT
A smooth and slick, racy-feeling product with outstanding early planing power, incredible speed at the extreme top end and ultra easy handling.
NOW READ THE OTHER REPORTS
ATTITUDE RPM 7.8
EZZY CHEETAH 7.5
GAASTRA SAVAGE 7.8
GOYA NEXUS 7.5
NORTH E_TYPE 7.8
POINT-7 AC-X 4G 7.5
RRD FIRE 7.6
SIMMER VMAX 7.9
SEVERNE NCX 7.5
TUSHINGHAM T4 7.5