Stats
Size (m2)
7.5
Luff (cm)
488
Boom (cm)
208
Battens
6
Ideal Mast
460 SDM Tushingham Ultimate Pro
Extension Req (cm)
30
Price
£TBC
Tweet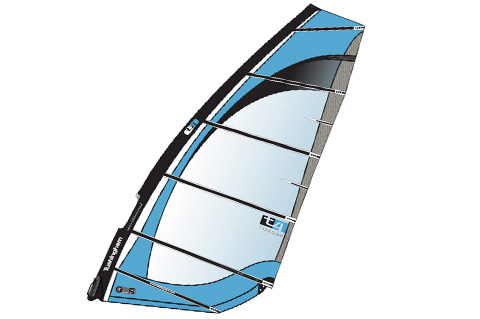 TUSHINGHAM T4 7.5M 2014 TEST REVIEW
OVERVIEW
The T4 has been a long-standing fixture in the Tush range for some seasons now and sits alongside the Lightening twin-cam and their Edge FSW and concept 'light freeride' models.
Outline  One of only two 6-batten frames in the test selection, the T4 has a pretty tall outline with a medium-to-low-cut foot and a small dropped clew. There's also a 'kink' high in the leech near batten #2. Dual height outhaul cringles.
Build Quality  Tush deliver good value with hidden seams in the foot, x-ply leech, abrasion protection, two-part luff sleeve and generous, elasticated and padded tack fairing (Block and pulley compatible cringle).
Rigging and Tuning  For light to medium wind settings the T4 is easy to rig, but you will need some downhauling assistance to tune it for higher wind. There's a wide tuning band, but for a 'rig it and leave it' setting, for all points of sailing, we liked it with just slight positive outhaul and a fairly tight leech.
BRAND POSITIONING
'Built to excel at blasting and gybing, we really struggle to find words that do justice to this Ken Black masterpiece. Low-end is smooth, yet powerful, while effortless rotation in manoeuvres and stability through a massive wind range … Popular for its simple rigging and tuning, paired with easy efficiency on the water, the T4 unleashes top performance to all levels of windsurfer.'. (Sic.)
PERFORMANCE
Unless you're as heavy as our editor you won't have any early-planing issues with the T4 in light wind. As soon as there's more than 12-14 knots though, anyone of any build will be flying it with good bottom-end speed and acceleration, with the foil being quite drivy and reactive to gusts. It's hard to believe sometimes that this is a 6-batten number as the stability, even for the big guys, is impressive and generally this 7.5 feels like a much smaller sail in the hands. That's a bonus of course for manoeuvres, with duck gybes for example being no problem plus there's an easy to access neutral mode in gybes to de-power and control the angles during turns. So, is it quick then? Damn right it is. Last season we tested the T4 in a much wider range of conditions and water states, but here in Egypt on the flat, currentless water and small chop – on a selection of wide and thin-railed boards – this was the undisputed winner of any drag race on any board throughout the middle range of use. At the extreme top-end there were faster options that giants can handle – and at the lower end of the wind band, as we mentioned, there are other choices specialising in low-end power. But for your common or garden freerider or wannabe racer, we guarantee you won't be able to pass the T4 for love nor money.
THE VERDICT
Unquestionable mid-range speed and super-easy, stable handling. The T4 delivers incredible value for money for all but the heaviest riders in a light package that feels like a much smaller rig. Surely the top choice for recreational racers?
NOW READ THE OTHER REPORTS
ATTITUDE RPM 7.8
EZZY CHEETAH 7.5
GAASTRA SAVAGE 7.8
GOYA NEXUS 7.5
NEILPRYDE HELLCAT 7.7
NORTH E_TYPE 7.8
POINT-7 AC-X 4G 7.5
RRD FIRE 7.6
SIMMER VMAX 7.9
SEVERNE NCX 7.5