Tweet
From our September issue here is our Duotone Wing Surfing product guide:
DUOTONE UNIT
THEY SAY – "The Duotone Unit is a wing that is perfect for waves, downwind and freeride. It's lightweight, simple and packs down small, making it perfect for riders who travel and value a straightforward, very stable setup with incredible drifting abilities! The Unit is the wing to choose if you want performance in a small package. The team worked hard to create a shape that is incredibly stable when totally depowered, like when you're using a wave's energy and the wing is just flagging behind. It offers maximum performance and smooth handling, even in strong and gusty conditions. When depowered, the lightweight construction guarantees a smooth drift, making surfing swell or waves so incredibly easy and comfortable. During floating before take-off, the Unit delivers plenty of power to get you up on the foil fast. The amazing manoeuvrability makes jibes, freestyle and cruising in waves absolutely effortless. It has a clean, tight canopy with great trailing edge/leech tension, and is a really solid construction with lots of power and stability; the big window ensures great vision and safety. Sizes 3.3 and 4 are equipped with 3 handles; holding the middle handle, the wing can be flown with only one hand which makes it amazing to fly, especially in waves and downwinders. Sizes 5 and 6 are equipped with 4 handles; the 2nd handle counted from the front is balanced in a way it can be flown with one hand too. The two back handles are designed for the back hand.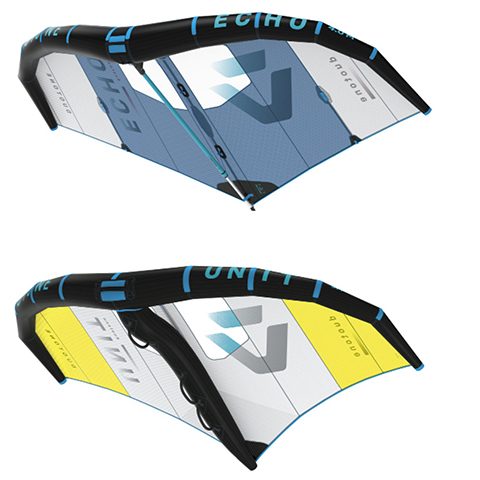 DUOTONE ECHO
The Duotone Echo is the evolution of our first foil wing, which took the market by storm last year. It's a wing for powered riding in all conditions, perfect for freeriding, waves, light wind and freestyle! The perfect wing for even the very first days on the water. A huge advantage of the Echo compared to softer wings, is its super stiff profile, achieved by the boom, battens and the new draft control rope. This unique invention causes a stabilization of the profile, by taking advantage of the rigid boom structure and results in a consistent load distribution and a continuous performance. Especially in light wind, the stiff profile, the battens and the draft control rope, make it easy to actively get going. All sizes have incredible low end, especially sizes 6 and 7 get you going in the slightest breeze.
The leading edge has been stiffened to create a more rigid framework; this improves the wings jumping abilities, but also offers more control at speed and in powered conditions. Canopy tension has been increased, and the trailing edge/leech tension has been tuned as well. These improvements help airflow and reduce drag, giving the wing a better wind range and making it more stable when riding waves. The new boom utilises an oval grip, making it more comfortable in the hands and hand positioning happens naturally and intuitively, keeping you in control at all times. If you want the highest performing, most technologically advanced wing on the market, grab the Echo, nothing else comes close.
www.duotonesports.com/foilwing
VITAL STATS
Duotone Unit: Price: £599 (3.3) to £749 (6)
Unit sizes: 3.3, 4, 5, 6.
Duotone Echo: Price: £499 (2.6) to £749 (7); Boom for Echo £99.
Echo sizes: 2.6, 3.3, 4, 5, 6, 7.
---
OTHER BRANDS IN THIS PRODUCT GUIDE:
---