Tweet
From our September issue here is our Ens!s Wing Surfing product guide:
THEY SAY – "For the discoverer to the pro, Swiss engineered ENS!S wings are for everyone looking for a new perspective on the water and for wing surfers wanting to challenge their own boundaries and defy the limits of physics. Whether you want airtime like co-developer Balz Müller or simply a relaxing ride on the water – pure joy is guaranteed.
Maximum performance
The ENS!S wing is extremely stable to fly, is light in the hand and has incredible power and propulsion for starting, going upwind and jumping. Ideal for light winds to stormy conditions. The canopy is stretched even without wind pressure, so that flutter is reduced and maximum control is guaranteed. These features guarantee maximum performance and fun when freeriding, surfing and freestyling.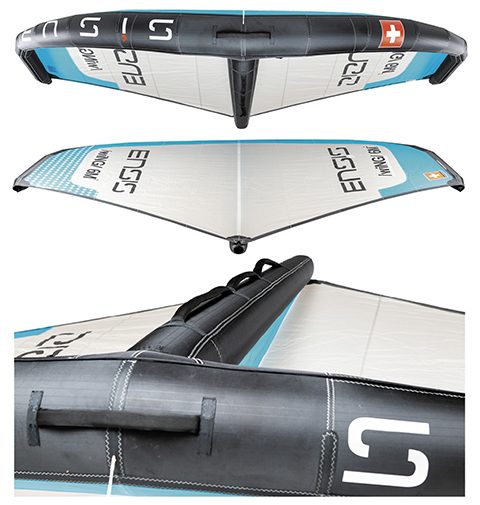 For flying with handles or a boom
The four handles are exactly where they need to be. They allow the hands to be placed in a perfect way. The narrow handle in the middle of the strut is also ideal for harness lines. The small wing sizes (2.5m2 and 3.5m2) have two handles on the strut for perfect handling. For all windsurfers who don't want to fly without a boom; thanks to the eyelet at the end of the strut, any windsurfing boom can be easily installed. For instructions see ENSIS Watersports YouTube channel.
High quality 
For ENS!S wings, Tejin 3×3 canopy material is used – the highest quality fabric available on the market. The leading edge is reinforced at every segment connection and the wing tip has a heavy-duty material. The trailing edge features a dyneema rope and is therefore much more resilient and reduces flutter. The leading edge and strut closing seam are built with an added layer of insignia, an extra binding reinforcement using the highest resistance thread made in the UK. These quality features ensure an extremely robust, light, and durable wing.
Available in 5 sizes
ENS!S wings are available in 5 perfectly graded sizes. This allows every rider to always be on the ideal wing in all kinds of conditions. ENS!S wings are delivered in a wing package consisting of a high quality backpack, hand-wrist leash and wing. The wing can be folded down very small and is easily carried in the backpack.
About ENS!S
At ENS!S, a brand based in Switzerland, everything revolves around water sports. World-class athletes, innovative developers and renowned designers develop equipment that meets the highest demands of performance and quality. Whether it be freestyling in the water or designing in the office, innovation drives the ENS!S team in all aspects.
Co-developer, wind and wing foil pro Balz Müller says, 'I love the challenge of taming nature creatively and I've always been amazed at how big birds glide through the air thanks to their wings! With the ENS!S wing I feel like an albatross that can use the water's surface to play. I still have a lot of plans with our ENS!S wings. My ENS!S wings are by my side like a good friend.'"
WEBSITE  – www.ensis-watersports.com
VITAL STATS
MODEL NAME – ENS!S wing
PRICE  – £645 – £875
ENS!S wing  sizes: 2.5m2, 3.5m2, 4.5m2, 5.2m2, 6.0m2.
---
OTHER BRANDS IN THIS PRODUCT GUIDE:
---