Tweet
From our September issue here is our Slingshot Wing Surfing product guide:
THEY SAY – "The new Slingwing V2, Hoverglide FWING foil package, and the 3:1 Shred Sled foil board were designed to facilitate progression. This combo is the ultimate for both light wind foiling efficiency, stability and ease of use.  The Slingwing V2 ticks all the performance boxes for a 2nd generation wing, extreme light weight, tractor like forward pull and balanced one-handed flight so the wing disappears behind you as you luff it and connect from swell to swell. The FWING foil package features the massive Infinity 99 wing and large 48 rear stabilizer that provide a shockingly low takeoff speed and keeps you foiling even when you are barely moving, making transitions and swell riding a breeze. The Shred Sled 3:1 foil board is the perfect 1-board quiver or do it all travel stick. At 143 litres, it is stable enough to learn to wind foil, wing foil or SUP foil, yet its short squared off shape makes it a pumping machine that is lively in all disciplines.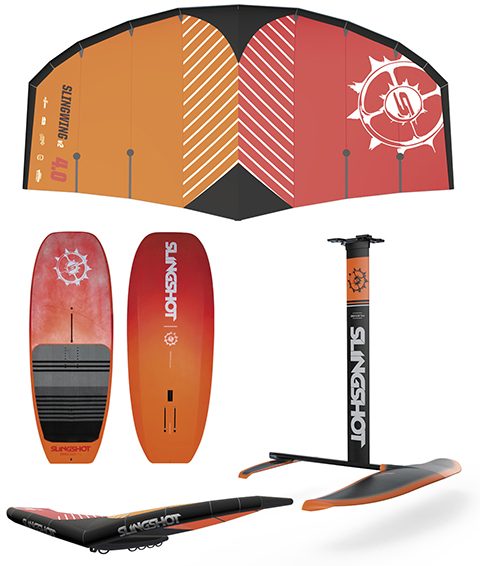 Features
The Slingwing V2 features an incredibly light build with a medium LE diameter. Where larger LE diameter wings feel like you are dragging something behind you while luffing and riding swell, the Slingwing V2 was designed to disappear behind you allowing for uncompromised foiling performance. It comes with harness line attachment points to extend your session and an ergonomic forward transfer handle to make transitions a breeze. The Hoverglide FWING package features Slingshot's largest Infinity 99 wing, big 48 cm rear stabilizer, 70 cm mast, quick release pedestal plate and switch fuselage. It was designed to get you up on the foil with barely any board speed and cruise through the lightest of lulls.
The Shred Sled features a windsurfing mast track, adjustable foil tracks for switching between sports. The bottom SUP style handle allows you to efficiently carry it like a normal windsurf rig and when winging you can carry the board and foil in one hand while keeping your other hand free to hold your wing safely away from the foil. The offset front foot inserts give pumping power for winging or SUP'ing, while windsurfers will enjoy laid back strapless style wind foiling."
Pro testamonial
Slingshot's wing and windsurf brand manager, Wyatt Miller, tells us about using this setup in ultra-light wind with waves, "There was not enough wind for the kiters to go out, but just enough to make SUP'ing a bit of a pain. I couldn't get on the foil using the wind, but I could slog almost straight upwind with this setup, position myself right at the peak and then as the wave came the little boost of wind would pick me up onto the foil and I would go flying 200 metres down the line luffing the wing behind me. When I turned around, I could not believe how well this combo motored back upwind off-foil. 2 minutes later I was right where I wanted to be at the peak ready to take-off on the next wave. It totally saved my session!"
VITAL STATS
Slingwing V2: PRICE: £749.00 to £949.00
Shred Sled: PRICE: £1799
Hoverglide FWING: PRICE : £1299
SLINGWING V2 sizes: 3.2, 4.0, 4.4, 5.4, 6.4.
Shred Sled: 213 x 76 x 13 cm; 143 litres.
Hoverglide FWING Package: Infinity 99 front wing – 2371 cm2, 48 cm rear stabilizer, 70 cm mast, quick release pedestal plate, 61 cm switch fuselage.
---
OTHER BRANDS IN THIS PRODUCT GUIDE:
---