Tweet
From our September issue here is our Quatro Wing Surfing product guide:
THEY SAY – "The all new Wing Drifter Pro is uncompromisingly dedicated to Wing foiling and Sup foiling. Its key perk lies in a super compact build, paired with high volume and a wide shape. The result is a range stable enough to knee-start or paddle into a wave, and when flying, agile enough to deliver high performance and manoeuvrability, to take your foiling to the next level!
The deck is flat for constant volume flow, comfort and stability, as well as efficiency in pumping high aspect wings. Pulling from the success of the KT Drifter surf foil line, the bottom features quad concaves for quick touch down and lift off, as well as a bevelled tail for a softer release and less abrupt motion when touching down in the back. The bevel also reduces the water line while offering sufficient volume while floating. The rails are also bevelled for softer release and touch down.
The Wing Drifter Pro features an EPS Core with a Carbon and Glass laminate deck and bottom, incorporating lavish foil specific reinforcements and finished in a deep blue colour. All sizes come with a track box, inserts, pads, straps and a handle on the bottom for easy transport.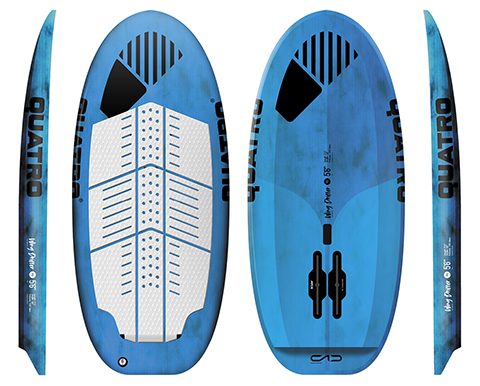 Pro Testimonials:
Jeff Spencer – "The Wing Drifter Pro is an excellent board for wing surfing in all conditions. The design minimizes drag, so it is efficient for getting up on the foil and it does not catch on the water when you are riding. It is very manoeuvrable which makes turning smooth and easy. This board is super fun and great for riders of every skill level."
Finn Spencer – "The Wing Drifter Pro is a great board, it has the perfect length and volume to be able to get up on the foil quickly, while still allowing you to pump easily. The bottom shape allows you to touch down without it catching on the water. The wider tail makes it much easier to get up because you can put your weight over the foil without it sinking into the water."
Tips from Casey Hauser – "Kneel starting a smaller board can be tricky at first, especially in choppy/gusty conditions. For me, I discovered that when I dragged my feet off the upwind side of the board by the tail, I could balance the board/wing more easily and get up more successfully. Next session – try knee starting with your feet against the upwind rail of the board – pull against your foot to make contact with the rail and 'hold' the rig steadier. When you're ready to stand up, exhale as you swing your front foot up onto the board. You can stay in this position quite comfortably, then again, on an exhale, put weight on your front foot to free your back foot to swing from the rail and onto the deck of the board – and you're up and away!"
VITAL STATS
WING DRIFTER PRO: PRICE:  – £1499
Available in sizes: 5'2" x 26" / 80 litres, 5'4" x 27" / 90 litres, 5'6" x 28" / 105 litres, 5'8" x 29" / 115 litres, 6'0" x 30" / 130 litres.
---
OTHER BRANDS IN THIS PRODUCT GUIDE:
---