Tweet
From our September issue here is our Gaastra/ Tabou Wing Surfing product guide:
THEY SAY – "We have been adding key products to our foiling segment over the past years and we are now introducing a large expansion with different wings, a wing board and an updated foil range with a wide variety of setups.
Both the GA wings, the Cross and the Poison, are based on the same all-round performance design, but do feature certain differences. The Cross combines easy and balanced handling with reinforcements, multiple handle positions and a window in the canopy, which makes it more accessible to less experienced riders and freestylers. The Poison impresses with a very lightweight construction for a lot of power in light winds, while control in gusts is still guaranteed thanks to the redesigned struts and handle positions of their new design. The Poison flags out extremely easily and neutral, which makes it the perfect choice for wing surfing in waves and swell.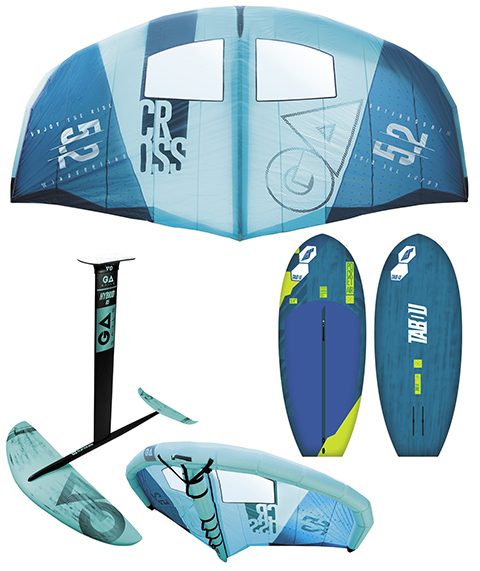 With the great success of the Tabou Magic Carpet convertible foiling board for SUP, windsurf and wing foiling, we felt the urge to add another foiling concept that focuses on winging and manoeuvre-oriented windsurf foiling. The Tabou Pocket Air comes with a compact design that offers enough volume for wing surfers of all skill levels, but still motivates you to go for freestyle moves and jumps. Being available in 5'4'' / 87 litres, 5'8'' / 97 litres, 6'0'' / 107 litres and 6'2'' / 117 litres, the Pocket Air provides a wide range of sizes for all demands. A large EVA pad with a good amount of footstrap inserts and a small mast track embellish the double concave deck, which allows you to feel the centre of the board without looking. The small mast track enables windsurfers to use the Pocket Air as a compact platform for manoeuvre-oriented wind foiling, which further expands its range of use.
To complete our foiling quiver, Gaastra offers a wide range of foils, which will be extended within the coming weeks. Especially the upcoming 2021 Hybrid and Mach 1 foils will offer more possibilities to adjust the foils to the rider's individual demands. Both foils are available in a windsurf foiling and wing foiling setup and provide the option to add different front wings and fin box adapters to the existing package.
The Hybrid's winging setup consists of a 2000 cm2 front wing, a 303 cm2 stabilizer, a 90 cm Aluminium fuselage and an 85 cm aluminium mast, which is an updated version of our existing Hybrid mast. A new 90 cm carbon mast distinguishes the Mach 1 wing foiling setup from the GA Foils Hybrid. Both are equipped with a double US Box adapter, which can be changed to Powerbox and Deep Tuttle box for use with a windsurfing sail and board.
Apart from that both models will be available with a 1200 cm2 front wing (Hybrid) and 1500 cm2 front wing (Mach 1) windsurf foiling setup with a Deep Tuttle box adapter. The optional front wings for both of these foils measure 900 cm2, 1200 cm2, 1500 cm2, 2000 cm2 and 2500 cm2."
WEBSITE  – www.ga-windsurfing.com / www.tabou-boards.com
VITAL STATS
GA Wings Cross: PRICE – £599 (3.5) to £699 (6.2)
GA Wings Poison: PRICE – £599 (3.5) to £699 (6.2)
Tabou Pocket Air: PRICE – £1499
GA Foils Hybrid 2000 (winging setup): PRICE – £1049
FOIL: GA Foils Mach 1: PRICE TBC
GA Wings Cross sizes: 2.8, 3.5, 4.2, 5.2, 6.2.
GA Wings Poison sizes: 2.8, 3.5, 4.2, 5.2, 6.2, 7.2.
Tabou Pocket Air: 5'4'' / 87 litres, 5'8'' / 97 litres, 6'0'' / 107 litres, 6'2'' / 117 litres.
GA Foils Hybrid (winging setup): 2000 cm2 front wing, 303 cm2 stabilizer, 85 cm mast, 90 cm fuselage.
---
OTHER BRANDS IN THIS PRODUCT GUIDE:
---