Tweet
From our September issue here is our Naish Wing Surfing product guide:
THEY SAY – "Wing surfing is taking the world by storm and Naish is leading the charge. The new Naish S25 Wing-Surfer is an amazingly simple, pump-and-go design, but it is now offered in more sizes and has more power and performance, allowing you to take this sport wherever you want to go. The new changes made to the Naish Wing-Surfer are many and address the demands of a rapidly growing new sport. The first major change is that the new Wing-Surfer is now available in six sizes: 2.8, 3.6, 4.6, 5.3, 6.0 and 7.2 m2. The second big change is the addition of large windows in the new Wing-Surfer, creating a safer and more engaging ride for both beginners and advanced.
When paired with one of the new Naish Hover Wing/SUP boards made specifically for wing-surfing, you will enter a whole new world of fun on the water.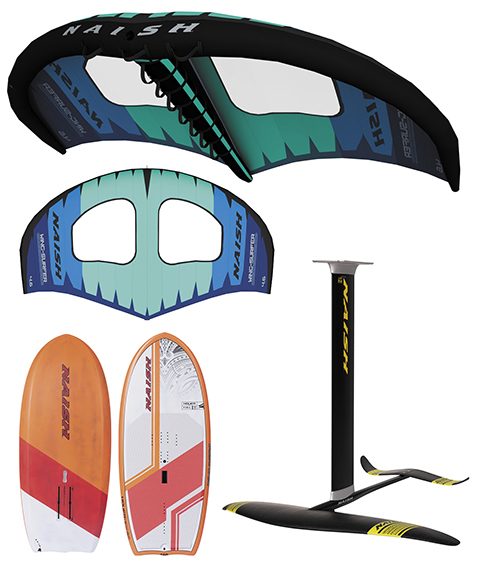 Our extensive line of Hover Wing/SUP boards covers the full range from entry level to expert in this fast evolving sport. From the extremely accessible 170 and 135 litre inflatables, to the composite Hover Wing/SUP's ranging in size from 140 to 40 litres, Naish offers the right board for every weight and skill level. These extremely lightweight Carbon Ultra boards will have you performing at your absolute best whether paddle foiling in waves, wing-surfing or doing downwind runs. Paired with the new Naish Jet Foils or Jet HA Foils, this combo cannot be beaten. Working closely with our global team and ambassadors, the Naish R+D team has developed and refined a new line of lighter, stronger and stiffer foils for riders of all ability levels. Whether surf, SUP or wing foiling, Naish has the right setup between our Jet series and expanded HA (high aspect) range. Our complete foil packages come in multiple wing options, which can be customized for optimum performance and specific riders' needs. Weight has been dramatically reduced on all components of our modular system. Our new alloy mast is lighter and stiffer than 90% of the carbon masts on the market, yet retains the durability and integrity of aluminium.
Our S25 Jet Foil 1650 complete + our 110 litre Hover Wing/SUP board are a great combo for a wide range of wing surfers from beginners to advanced."
Pro Testimonial:
Ricardo Campello – "I am new to wing surfing, much like everyone else, but my knowledge on windsurfing helps a lot when I am on the Wing-Surfer. I have used the previous Naish Wing-Surfer and I have to say there is a huge improvement on the S25 Wings – the wing is much lighter, stronger and the clear window panels make it easier to ride so you can really see what is downwind of you. The size range is much better so you can go in any kind of wind and hold a lot of wind. I've only got the 4.6 M which is the perfect size for what I need it for, and now that I am getting better I am looking forward to doing some jumps and tricks!"
www.naishsurfing.com / www.wing-surfer.com
VITAL STATS
S25 Wing-Surfer: PRICE:  £554 to £789
S25 Hover Wing/Sup Boards: PRICE : £912 to £1172
S25 Jet Foils: PRICE : £986 to £1278 (complete).
S25 Jet HA Foils: PRICE : £1016 to £1093 (complete).
S25 Wing-Surfer sizes: 2.8, 3.6, 4.6, 5.3, 6.0, 7.2.
S25 Hover Wing/Sup Boards: 4'4″ x 21″ / 40 Litres, 4'6″ x 21 1/2″ / 50 Litres, 4'10" x 22 1/2″ / 60 Litres, 5'0″ x 24″ / 75 Litres, 5'2″ x 26″ / 85 Litres, 5'7″ x 27.5″ / 95 Litres, 5'10" x 29″ / 110 Litres, 6'4″ x 31″ / 125 Litres, 6'6″ x 33″ / 140 Litres.
S25 Jet Foils: Front wing sizes – 1050, 1250, 1650, 2000 and 2450 cm2. Rear wings – 320 and 450 cm2.
S25 Jet HA Foils: Front wing sizes – 1240, 1400 and 1800 cm2. Rear wings – 280 and 310 cm2.
FUSELAGES: available in 55 or 64 cm.
MASTS: available in 65, 75, 85 or 90 cm.
---
---