Tweet
From our September issue here is our Starboard Wing Surfing product guide:
THEY SAY –
"The FreeWing is an all-around wing that's easy to use and optimal for everyone, from wingfoil beginners to down-the-line wave riders. It is especially controllable when overpowered and efficient when pumping in light winds due to the generous strut diameter, which solidifies the frame's stiffness. The wing is surprisingly stable when luffed in the neutral position, making it ideal for downwinders and carving. Every size has been precisely designed to achieve maximum control and performance and we focussed on reduced arm pressure and extra comfort when riding for long periods of time.
Other key features are: The Kevlar found in a bulletproof vest is put in the most critical areas to protect the FreeWing from wearing while minimizing weight. High-visibility windows for safety in crowds; the more you see, the safer you'll be. Angled handles for convenience getting started and to perform jibes and manoeuvres. The included leash has a cuff system that allows you to strap in with only one hand.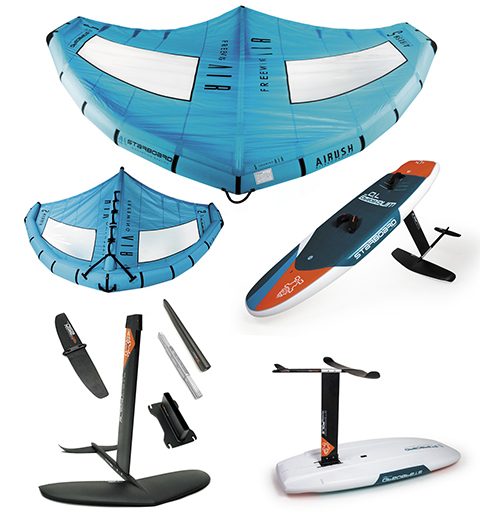 The Waterman package is for the rider who wants one foil set to cover wind / wing & wave foiling. This setup allows you to configure a foil similar to the Starboard 'SuperCruiser' for wind foiling and the 'Wave 1700' for wing and wave foiling.
Wind foiling setup: Wave 1700 front wing, Wave 370 tail wing, 87 cm fuselage and 82 cm V7 Alu TP mast (remember to remove the top plate adapter).
Wing and Wave foiling setup: Wave 1700 front wing, Razr 250 tail wing, Quick Lock HD 36 front and tail piece fuselage and 82 cm V7 Alu mast (keep the top plate adapter).
The WINGBOARD is Starboard's brand new wing specific board, available in five modes, meaning there's a board for all abilities.
10'4" x 32" (3in1) / TBC litres – The state-of-the-art learning tool for wing boarding (non-foiling) and is at the same time a fabulous 10'4" x 32" GO paddle board. As a windsurfing board it's easy to learn on and you will enjoy an amazing glide in lighter winds.
7'0" x 30" / 140 litres – This is the most stable size for heavier riders up to 110kg and those wanting extra stability. The longer length increases the glide and speed to get flying.
6'7" x 28" / 115 litres – This is the mid-size, an ideal balance between stability, glide and manoeuvrability for riders up to 95kg.
5'8" x 25" / 88 litres – With a short length and narrow width at 25", this is a performance size for intermediate to advanced riders up to 85 kg.
4'6" x 25" / 69 litres – The smallest size and most manoeuvrable model for advanced and lightweight riders up to 75 kg.
The 10'4"x32" 3in1 (non foil) is available in ASAP & LITE TECH construction and the 7'0"x30": to 4'6"x25" wing boards are available in BLUE CARBON & LITE TECH construction.
Windsurfers should also take note of the new 2021 FOIL X 125, a compact shape that offers a fantastic crossover between wind foiling and wing foiling. Available in both Starlite and Wood Sandwich technologies."
VITAL STATS
FreeWing: PRICE – £695 (2.0) – 865 (7.0); 8.0 £TBC.
WINGBOARD: PRICE : TBC
Waterman Package: PRICE:  TBC
FreeWing sizes: 2.0, 3.0, 4.0, 5.0, 6.0, 7.0m, 8.0.
WINGBOARD: 10'4"x32" / TBC litres, 7'0"x30" / 140 litres, 6'7"x28" / 115 litres, 5'8"x25" / 88 litres, 4'6"x25" / 69 litres.
Waterman Package: front wing – Wave 1700 cm2, rear wings – Wave 370 cm2 & Razr 250  cm2, mast – aluminium 82 cm V7 with TP Adapter for DT 67 V7, fuselages – aluminium Wave 87 cm plus Quick Lock HD Front and Tail Piece 36.
---
OTHER BRANDS IN THIS PRODUCT GUIDE:
---