Tweet
From our September issue here is our Fanatic Wing Surfing product guide:
THEY SAY – "We have 4 different ranges of boards you can use for wing foiling, depending on your weight, ability and requirements. The SKY SURF is for foil surfers of all levels, from entry to high performance and advanced wing foilers. It is available in sizes 4'8″ / 35 litres, 5'2″ / 41 litres and 5'11" / 60 litres.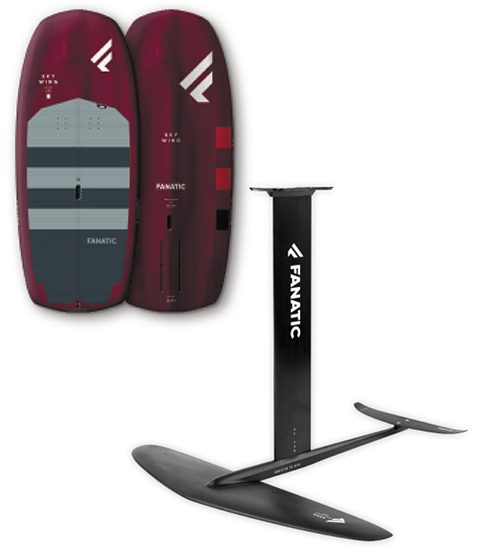 The SKY WING is for wing foilers of all levels and weight categories looking for a specific wing foiling board. Our incredibly well received SKY WING range offers 5 shapes (4'8″ / 5'0″ / 5'4″ / 5'8″ / 6'0″ in a vacuum epoxy construction) to cover all conditions and every rider. The floaty new models 5'8″ (110 litres) and 6'0″ (130 litres) are specially designed for an easy start and take off in the lightest breeze with minimal board dimensions once up on the foil.
The SKY SUP range is for all SUP'ers seeking the ultimate foiling board & wing foilers from entry to advanced level. The SKY SUP comes in three sizes, 6'3″ / 106 litres, 6'7″ / 125 litres, and 6'11" / 142 litres in Vector Net Technology construction. The 6'3" is also available in lightweight BXF construction and the 6'11" is available in a WS edition with a mastfoot for windsurfing.
The new BEE is the ultimate watersports weapon! We've packed four different dimensions of watersports into one board: SUP surfing, SUP foiling, wing foiling and windsurf foiling – you decide on the setup you ride. Whether it's small surf, rolling waves, ocean swells or breezy flat water, the BEE is fun in all conditions, a 'watersports toy' for multiple disciplines. Its dimensions are 7'8″ / 233.7 cm x 30.75″ / 78.1 cm / 120 litres and made in Vector Net Technology construction.
Fanatic offer two foil ranges – the AERO FOIL and AERO FOIL HIGH ASPECT. The AERO FOIL is available in 3 front wing sizes – 1500, 2000 and 2500 cm2. It is designed for Prone Surf Foil, SUP Foil and Wing Foil in smaller, less powerful surf, rolling waves and ocean swells, as well as flat water for wing foiling. It has a forgiving ride and slow to medium speed for foilers of all levels entering smaller and slower surf, as well as those looking for a direct turning behaviour.
The AERO FOIL HIGH ASPECT is also available in 3 front wing sizes: 1250, 1500 and 1750 cm2. It is designed for wing foiling or pumping in flat water, as well as surf and ocean swell of all speeds. It is extremely stable and controlled, has a medium to higher speed, efficient glide and allows breaching of wing tips in turns. It is for wing foilers and surf/SUP foiliers looking for a fast and efficient foil with a really good lift to drag ratio. Both foil sets offer carbon front and back wings, a Formula 1 aluminium fusion technology mast, which has a 30 % higher stiffness compared to other aluminium masts, and an aluminium fuselage with extra large mounting area for maximum load spread."
VITAL STATS
SKY WING : PRICE – £1099
BEE: PRICE – £1399
AERO FOIL : PRICE – £1178 – £1248
AERO FOIL HIGH ASPECT: PRICE – £1128 – £1228
SKY WING: 4'8″ x 22″ / 55 litres, 5'0″ x 24″ / 75 litres, 5'4″ x 26″ / 95 litres, 5'8″ x 28″ / 110 litres, 6'0" x 30″ / 130 litres.
AERO FOIL WING SET: Front wings – 1500, 2000 and 2500 cm2. Rear wings – 295 and 365 cm2.
AERO FOIL HIGH ASPECT WING SET: Front wings – 1250, 1500 and 1750 cm2. Rear wings – 250 and 300 cm2
FUSELAGES: available in 64 or 80 cm.
MASTS: available in 75 cm or 90 cm.
---
OTHER BRANDS IN THIS PRODUCT GUIDE:
---